For media, entertainment and gaming companies, figuring out how to make money with a mobile app is a big part of the Strategy phase of the mobile lifecycle. Mcommerce apps that sell products directly have that part figured out too. Naturally enough, this is referred to as "monetization" and these companies spend a whole lot of time and effort strategizing around it.
If you're in another line of work, however, you may only be thinking of mobile as a marketing channel or as a utilitarian tool for things like wayfinding, property management, or simply sharing helpful information. If that's the case, you're leaving money on the table.
What Is an App Monetization Strategy?
Simply put, it's a plan for driving revenue via your mobile app, using one or a combination of different app monetization models. It's best to consider and plan for monetization during the Strategy phase, so you don't have to force-fit something later.
Outside of direct mCommerce, there are five basic options:
Pay-to-download (or "Paid"): Pretty straightforward. These are apps that you pay $X to download.
Subscription: Users pay a monthly fee via the app stores.
Free ("Freemium") with in-app purchases: The app is free to download but the publisher makes money on in-app purchases that provide an enhanced, "premium" experience. In games, these are usually micro-transactions such as special gear, extra lives, weapons, gaming levels, etc. In other types of apps, these could be access to exclusive content behind a paywall.
Limited Freemium: The app is free to download but is limited in one of two ways—either the user can access full functionality for a short time only OR the free version only offers basic functionality, such as a few game levels. The idea is to entice users to try before they buy, hoping the app experience is compelling enough to convert them to a fully paid or subscription version.
Free to download, with advertising: In-app advertising is an increasingly common way to monetize all types of apps. Users will welcome ads if they are well-targeted, relevant, interesting and non-disruptive to the user experience. It's even better if the advertising adds value by connecting users with rewards or exclusive content (as in sponsored gameplay integrations).
According to App Annie's recent worldwide survey of app professionals, in-app purchases and in-app advertising were the most popular monetization strategies, however many of those surveyed expected subscription and mCommerce to become more popular over time.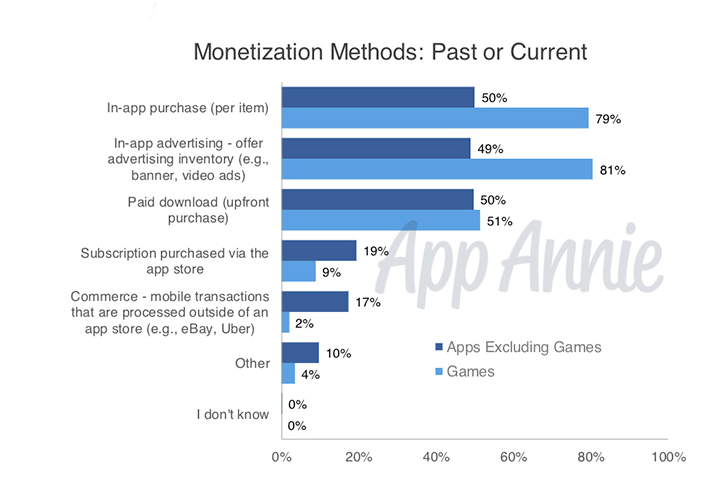 Developing a Sound Monetization Strategy
There is no cut-and-dried monetization strategy that works for every industry or every type of app. Ultimately, your team will determine the type(s) of monetization you want to include in your app by carefully evaluating a number of considerations, including:
Your app experience: User experience (UX) should be your most important consideration. Any monetization strategy you choose should align with the overall experience and preferably enhance it.
Your audience: Across various demographic categories, people feel differently about paying for an app or making in-app purchases, and their behavior varies accordingly. According to Gartner, people in the 25-34 age bracket spend the most on both paid apps and in-app transactions (thanks, older Millennials!). Those on the younger side of Gen X (35-44) come in second, but they spend more on in-app transactions than paid downloads. In addition, women spend less overall on paid downloads and in-app transactions—but they're more likely to try a freemium approach.
Your business goals: Monetization should always complement your overarching business goals, not take away from them.
What the competition's doing: Check out other apps in the same category. How are they monetizing? Does their approach complement or detract from their UX?
Though game developers pioneered it, mobile app monetization is still a developing field. If your team lacks expertise in monetization, consider working with an expert partner. And if in-app advertising may be part of your mix, seek out a monetization partner with not only the requisite experience but also trong brand relationships and robust data sharing. Want to learn more? Download our checklist, 6 Smarter Questions To Ask Your Monetization Partners.