From Turner Classic Movies and Phunware, Watch TCM is simply the most exciting and in-depth experience you'll find about classic movies anywhere on a mobile device or computer. With over 300 titles to choose from in any month, 2 LIVE broadcast feeds of TCM, and exceptional in-depth background information, clips, and stunning galleries on every title playing on Turner Classic Movies, prepare to immerse yourself in the beauty of classic film like never before.
Whether you're on the go with your mobile device or computer, WATCH TCM is now available when you want, where you want, and with the same great attention to detail and passion around the history and legacy of movies you expect from Turner Classic Movies.
Features: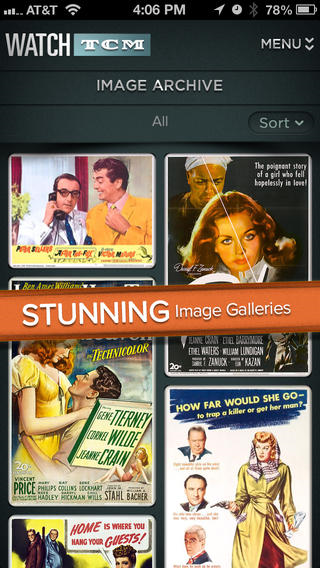 Two Live Streams: a East and West Coast feed of Turner Classic Movies. Watch 2 different movies LIVE at any time, UNCUT and COMMERCIAL FREE.
Hundreds of On Demand Moves! That's right, nearly every title playing on TCM is available to watch On Demand. Includes our introductions from TCM hosts Robert Osborne and Ben Mankiewicz. UNCUT, COMMERCIAL FREE, and presented in their original aspect ratios, preserving the film's presentations the way they were meant to be seen.
Gorgeous, responsive design, featuring a slate black color approach to enhance viewing on portable devices.
Interactive Schedule: 2 month schedule (!) to help you plan your viewing, with information accessed from TCM's critically acclaimed Movie database. Also includes listings for Short Films playing on TCM. Look for Movie Shorts coming to On Demand soon!
Movie Alerts and Actor Subscriptions: Subscribe to Movie Stars you love and get notified when they are available in WATCH TCM. Get alerts on films in our upcoming schedule when they are available to play ON Demand.
Watchlist: Add any movie to your queue to watch later
Browse by TCM Themes: quickly access On Demand films by popular themes such as THE Essentials, Star of the Month, Silent Sunday Nights, and more. Sort films with additional helpful filters.
Fan Feed: Sign in with Twitter or Facebook and leave your comments on any film playing On Demand! Add to comments from others, or just enjoy viewing the fan comments on the film yourself – it's whole new exciting way to experience classic movies.
Access 1000s of short form clips and trailers to preview titles and see what's playing or upcoming
Stunning, exclusive, many never-before-seen image galleries from titles playing on TCM in the month. Post them to Instagram!.
Share Images and other content via Twitter, Facebook, and Instagram
Introducing the TCM BLOG READER: explore great blog writing from across the web featuring the latest news and great writing on Classic Film, personally selected from TCM staff writers.
In-Depth information on every title playing on TCM right at your fingertips: feature length articles, cast & crew, stunning image galleries, background information, complete synopsis and more.
Shop.tcm.com highlights and features. Get movies playing on TCM in our store and more.
Search across the entire 2 month schedule for favorite stars, films, clips. Access titles and set Reminders.
Retro TCM Clock
Watch TCM is free. To view LIVE broadcasts and On Demand titles, you'll need to login with your cable or satellite provider user name and password. Please note: not all cable and satellite providers are currently available with Watch TCM.