Phunware partners with Pixalate to ensure mobile advertising remain both effective and safe for all brands.
AUSTIN, TX [November 17, 2016] – Phunware, whose Multiscreen as a Service (MaaS) real-time audience platform helps brands engage, manage and monetize their users anytime, anywhere, today announced a new partnership with Pixalate to continue the fight against ad fraud.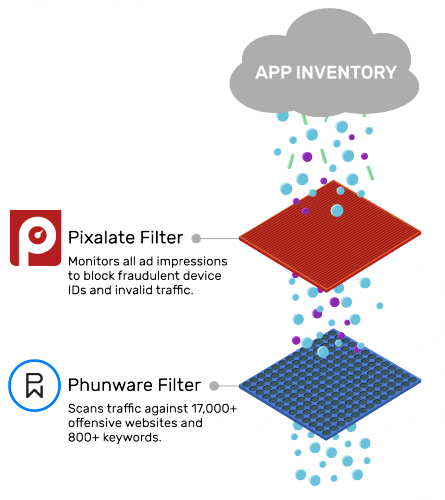 Pixalate is the first and only data platform with a comprehensive suite of products built specifically to bring transparency to advertising and eliminate fraud. Phunware will leverage Pixalate's fraud prevention solutions across its platform, which touches more than 650 million monthly active devices every month, to monitor for and prevent fraudulent and non-human traffic across all mobile monetization and audience building campaigns.
"With mobile ad fraud rocketing from 22% to 37% from 2014 to 2015, this is now the biggest problem facing the mobile ad industry," said CEO of Pixalate, Jalal Nasir. "By leveraging Pixalate's Anti-Fraud technology suite, Phunware is ensuring that they have the best tools to ensure the integrity of their inventory. We welcome Phunware to the ongoing battle against ad fraud and look forward to supporting them in the future."
With global mobile ad spend estimated at more than $100 billion, fraud is costing advertisers tens of millions of dollars every year. The partnership with Pixalate furthers Phunware's long-standing commitment to fighting ad fraud, expanding on existing Phunware Protect tool, which uses proprietary technology and third-party verification to ensure campaigns are running in 100% brand-safe environments and in front of real human beings. Phunware's partnership with Pixalate has already further decreased general invalid traffic on the Phunware platform to less than 1%.
"Our partnership with Pixalate is an important next step in improving transparency and performance in mobile advertising," said Ian Karnell, Phunware's GM of Audience Building and Monetization. "As a company that works with Fortune 500 brands and top-grossing developers every day, this partnership ensures that their campaigns not only run in the right places, but in front of real users who are interested in the product, brand and app at hand."
For more information on Phunware MaaS platform products, solutions and data, including how the company is driving progress in programmatic advertising, please visit www.phunware.com.
About Phunware
Phunware is the pioneer of Multiscreen as a Service (MaaS), a fully integrated suite of platform products, solutions and data, that allows brands to engage, manage and monetize their anytime, anywhere mobile application users worldwide. Phunware creates category-defining mobile experiences for the world's most respected brands, with more than 650 million active users touching its platform each month. For more information about how Phunware is transforming the way the world interacts with mobile in the virtual and physical worlds, visit www.phunware.com and follow us on Twitter @phunware.