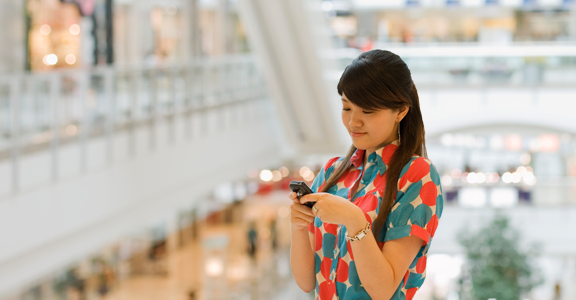 Over the past few months, there has been a lot of debate taking place around beacon technology. Of course, Apple ignited the discussion with the unveiling of iBeacon, which is designed to extend location services to iOS devices. In addition to beacons being rolled out in Apple stores, other retailers, including Macy's, Kenneth Cole and American Eagle are testing the technology.
Yet many retailers still have not warmed up to beacons. Shopper sentiment and overall acceptance of the technology are two factors influencing lack of adoption, as some consumers are (rightfully) concerned about their privacy.
But the catalyst of beacons is that they can help retailers facilitate in-the-moment engagement with shoppers while they're in a store and ready to buy. This not only piques interest, but also can help drive sales and ongoing engagement. After all, the easier you can make consumers' lives, the more loyal they will be to your brand.
In a recent webinar during the weeklong Retail TouchPoints Connected Consumer Series digital event, Adam Silverman, Principal Analyst at Forrester Research, indicated that location is going to be critical to the next-generation brick-and-mortar store.
Overall traffic in brick-and-mortar stores is declining worldwide, with 15% of all shopping malls going out of business.
But don't panic!
"That doesn't mean the store is going away," Silverman explained. "It's just that the role of the store is changing. The store needs to become more of a place of engagement with a greater focus on conversion. This is where beacon technology can help quite a bit."
Beacon technology can offer context, personalization, insight, efficiency and differentiation to the brick-and-mortar experience. Placing censors throughout the store, retailers can "wake up" their branded mobile apps when consumers are in close proximity to a specific aisle, display or end cap.
Silverman explained that empowered buyers "demand a new level of customer obsession." Because shoppers have fingertip access to more information than ever before, they expect retailers to go a step further, making all interactions highly relevant and tailored to their unique preferences.
Beacon technology can help you engage customers down to the department or aisle level. So if a customer is looking at shoes, you have the opportunity to initiate engagement and send her a 10% coupon on the latest line of sandals. Talk about a powerful incentive!
Full disclosure: I am a Millennial. My mobile device is glued to my hand at practically all times, and I'm always looking for the latest app to make my life a little bit easier. Yes, that means I'm also always looking for offers and deals that align with my wants and needs. So you could say that I'm the target audience for beacon marketing.
Although you may not be a Millennial, you may be the target audience for beacon marketing, too! Think about how many times you check your smartphone throughout the day, how many push notifications you receive or how often you tap into a device while you're at home after a long day at work.
The bottom line is that if you're a mobile-empowered consumer, you can get tremendous value out of beacon marketing.
The Benefits Of Beacons
Mobile devices are becoming the nucleus of our everyday lives! We need them, rely on them and simply gotta have them! It's only right that retailers strive to meet shoppers' needs on their device of choice while they're at home, on the go and even venturing through a store.
With that, I'd like to outline what I believe are the top benefits of beacon marketing:
Data security isn't an issue: The greatest misconception of beacons, in my opinion, is that once a retailer rolls out the technology, consumers will be bombarded with messages they don't want or need, and retailers will track their every move. Wrong. To participate, consumers need to opt in by turning on their Bluetooth and enabling location-based services. If shoppers don't "raise their hand," retailers can't interact with them.
Offers and interactions can be more relevant: Beacons turn on when an opted-in smartphone is nearby, which helps retailers better understand traffic patterns and dwell times throughout the store. Additionally, retailers have the ability to initiate engagement with these consumers while they're looking at specific products, leading to more compelling and timely marketing tactics.
Services and experiences can be improved: During the Connected Consumer Series webinar, Silverman noted that Aloft Hotels is in the process of testing beacons to unlock room doors. He added that there is potential for the technology to facilitate the check-in process, allowing customers to page representatives or check in using their mobile devices.
It is undeniable: We are living in the age of the empowered mobile consumer. Forrester Research supports this point, noting that many consumers are using smartphones in multiple locations throughout the day, including in the car (68%) and of course, in the store (68%). What are you doing to reach these consumers?
Although only 14% of executives who attended our beacon-themed webinar are currently using the technology, 67% are considering or planning to use it this year. That's a lot of implementations on the horizon for 2014.