It's time to think differently about mobile. We're not talking about devices here—we're talking about mobile apps and channels as a platform, a discipline, a plethora of tactics and a sweeping societal and business transformation all at once. It's a whole new world of "mobile."
Across the U.S., mobile app usage continues to expand, accounting for the majority of internet users' digital media consumption (comScore). Brands are starting to get on board—73% of U.S. marketers surveyed in August 2016 said they plan to increase their spending on mobile within the next 12 months.
Unfortunately, investment in mobile still fails to match consumers' interest in the platform, a gap that represents a $22 billion opportunity in the US alone.
As mobile reaches maturity, organizations must stop thinking about it as a menu of isolated tactics like monetization, mobile app engagement, location-based marketing and so on. Instead, by thinking about mobile in terms of a lifecycle, we can understand and capitalize on it much better. Let's explore why that is, what the mobile application lifecycle entails and how you can take control of it at every stage for maximum benefit.
A 1000-ft View of the Mobile Application Lifecycle
Regardless of the purpose it's intended to serve, every mobile initiative has a four-stage lifecycle. The sooner you can understand these stages, embrace them and begin to organize your team and processes for success in the era of mobile (more on those topics in my next blog installments), the more handily you will be able to crush your competitors. The four stages of the mobile application lifecycle are:
1. Strategize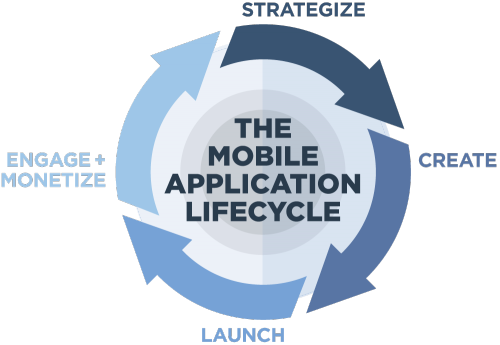 In this phase, you define the amazing experience you want users to have with your app. You outline use cases and determine the feature sets your app should offer.
You decide which devices (Smartphone? TV? Watch?) and operating systems (Android? iOS? Other?) you want to serve.
It's also important to identify early on the infrastructure and bandwidth needed to support the experience you want to create. For example, if you know you want to build a patient wayfinding application for your hospital, do you have the wireless infrastructure in place to support this experience? If you want to provide proximity-triggered in-app promotions to users at your retail store or stadium, do you understand the hardware requirements for these use cases?
Finally, it's critical to involve the right groups from across your organization as early as possible.
Your Mobile team (it may be called the Digital or Virtual team at your organization) should drive the definition of the mobile experience and how it will be brought to life in your app.
Your Media Buying team should be there from the outset to make sure you have appropriately strategized how you will build, engage and monetize your application audience (more on this below in Step 3: Launch).
Your Data Science team should be there to plan what data you will collect through your application and how you will use it not only to optimize future versions of the application, but business processes, marketing strategy and a host of other initiatives not traditionally thought of as "mobile" (more on this below in Step 4: Engage and Monetize).
2. Create
In this phase of the mobile application lifecycle, you bring your app to life in the way that makes the most sense for your budget, timeline, inclinations and capabilities. At a high level, these are your options:
If you have the capability to build your app in-house, you will likely want to license app components (usually in the form of SDKs, APIs and portals) and use your own engineering team to incorporate them into your application. Licensing application components is also the most budget-friendly option.
If you don't have the inclination or capability to build your app in-house, licensing a pre-built, brandable application is an excellent choice. Customizable app solutions are relatively inexpensive and offer quick time to market and low total cost of ownership. And if you choose the right partner, they don't look pre-built at all.
Of course, if you have the budget to do it, you can work with a partner to build a custom app from the ground up, with all of the bells and whistles you desire. At this point, it's only a matter of picking a partner with proven expertise, stability and scale. (More on this topic to come in a future blog post about best practices for writing mobile RFPs.)
3. Launch
This phase of the mobile application lifecycle is where you facilitate application discovery and user acquisition to build the audience that will consume your mobile application. Your Media Buying and Data Science teams will play critical roles here, as performance-based audience building campaigns will be one of your main tactics. Finding the right—read: high-value—users for your app requires a thoughtful, data-backed media buying strategy.
4. Engage and Monetize
Finally, plan for how you will drive revenue with your mobile efforts. This may be as straightforward as charging for your app or offering in-app purchases of physical or virtual goods—but you should also plan to explore other techniques as appropriate, such as:
Monetizing your app's real estate through banners, interstitials and other paid media units.
Leveraging the native capabilities of users' smartphones to power contextually relevant messaging that drives foot traffic and purchases, both online and off.
Using the data that accumulates as users engage with your app to inform and optimize engagement, integration and monetization approaches as well as future iterations of the app.
Many businesses successfully complete steps 1-3, but stop at step 4 because they think the work is done after the app is in the app marketplace and downloads are trickling in. This line of thinking is akin to devoting significant time and resources to design and build an automobile and get it to the dealership, then neglecting to service or maintain it after the buyer drives it off the lot. Will that buyer feel compelled to purchase a vehicle from you again? Will they get as much out of that car—and feel as positively about your brand—as they would have if you had helped them maintain it? Probably not.
Thinking about mobile in terms of a four-stage lifecycle will set you apart from your more shortsighted competitors and prepare you to play—and win—the long game.
What Makes the Mobile Lifecycle Unique?
The idea of a technology lifecycle is not new—it comes to us from the software development world. What makes the mobile lifecycle different is the hybrid digital / physical context in which mobile operates.
Think about it:
Mobile bridges the physical and digital worlds. A smartphone is a digital device, but it moves through the physical world and includes highly specific geographic location technologies that mobile apps can leverage.
Mobile straddles the line between customer experience and business solution. An app can serve users with entertainment, wayfinding, shopping, etc. while also delivering value to the business through third-party monetization, process optimization, user data collection and driving real-world outcomes like foot traffic or appointment compliance.
Mobile use is immersed in the very personal context of the user's daily life. People carry their phones wherever they go and they interact with apps throughout the day. Each of these interactions results in a data point—complete with location—brands can use to improve and tailor the mobile experience.
These mobile data points are actionable far beyond the mobile channel. They can (and should) impact marketing strategy as a whole, media investment, operations planning—even real estate decisions. Mobile is not a digital-only channel. It's an everywhere channel.
Learn more and download the eBook Mobile Data: the Missing Link in Your User Acquisition and Engagement Strategies!
How Mobile Permeates the Business
Because of the context inherent to mobile data, the mobile lifecycle can positively impact multiple aspects of your business. Here are a few examples:
Operations. Leverage data from mobile location-based technologies like beacons to streamline inventory control in a retail environment, monitor and manage patient traffic patterns in a hospital, or speed the flow of passengers through an airport or cruise terminal.
Marketing. Use data from your mobile campaigns and app engagement to understand what offers your users care about, what app features they value, and where they live, work and play. Optimize your entire marketing approach based on these deep insights.
Revenue. Mobile is a powerful channel for e-commerce, of course, but can also serve as revenue-generating platform through in-app media monetization and mobile engagement campaigns that drive real-world purchase conversions.
Learn more and download the eBook Bring New Life to an Underperforming App with Location Technology!
Mobile affects many parts of your business, so you can't keep it in a silo. Mobile strategies must be integrated with the rest of your marketing and digital efforts and managed accordingly. Those who still approach mobile on a per-project or per-feature basis are missing out on the full benefits—and are leaving money on the table.
Discover what it takes to close the mobile opportunity gap. Download Mobile First: Harnessing the Mobile App Lifecycle for Transformative Business Success for a strategic and tactical model with actionable items at every stage.
At Phunware, we understand mobile application lifecycle management intimately. We've been working in this space since 2009, with deep experience and expertise in leveraging mobile context for business gain. Our Multiscreen as a Service (MaaS) platform is built to provide effective solutions across every stage of the mobile lifecycle.
For more information about how Phunware provides strategic partnership across every stage of the mobile lifecycle, contact us. And don't forget to check out the next installment in my blog series: Org Structure in the Mobile Era: How to Organize Your Team for Success.