Dear Mark and Sheryl,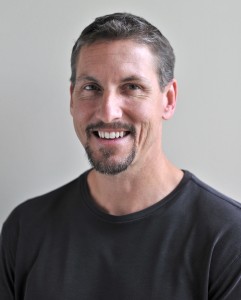 It has been six years since I last reached out, and we still have not had the opportunity to meet in person (although I would still welcome it). Since my last letter, I have been very happy to see Facebook turn a corner in its strategic thinking, placing mobile at the center of its business and adopting a mobile-first, native-first approach like the one I advocated in 2012. I have also been impressed to see Facebook solidify its ownership of the social media space with a portfolio of apps and an intelligent M&A strategy. I have been disappointed, however, in how Facebook continues to miss the mark with its use and monetization of user data. Facebook is a social network and the home of millions of people's online identity. Users are its lifeblood. So why is it that, whether you are building a mobile app or building your monetization model, users seem to be an afterthought?
Since it has been a while, it might behoove me to explain who I am and what business I have opining on Facebook's corporate strategic approach. My name is Alan Knitowski and I am the co-founder and CEO of Phunware, a company that offers mobile application software, media and data to help the world's most respected brands create, monetize and optimize their mobile portfolios. While we can't claim a brand as recognizable as Facebook's, our platform reach is in the same league. We touch a billion unique devices every month through thousands of applications, and we have been helping brands craft their digital identities since around the time the first iPhone was released.
Through years in the mobile technology space, we identified a disconnect that didn't sit well with us, and we decided to do something about it. I am writing this letter today to share this experience in the hopes that doing so will prompt Facebook to think about the way it handles data and use the opportunity in front of it—for every crisis is also an opportunity—to transform its business and regain users' trust and respect.
The disconnect we identified is that entities like Facebook and other giants exert a disproportionate and unfair amount of control over the management, use and monetization of consumer data. As this week's unfortunate media revelations made painfully clear, users don't know what data they are sharing with publishers, and it's foolish to rely on publishers' goodwill and good faith to keep consumers safe. It is our job, as the makers and facilitators of technology, to protect consumers—and empower them with ways to protect themselves.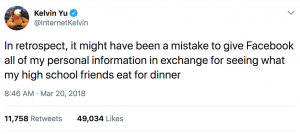 What can we do to level the playing field, you ask? Thanks to some recent technological advancements, it turns out the answer is "A LOT." I'm talking about blockchain and distributed ledger technology, and I believe that these protocols were born out of our culture's collective and deep-seated distrust of the institutions that control our lives—including governments, supply chains, the healthcare system and even our favorite social networks. In an era where our souls are laid bare to the algorithms of faceless corporations, we have to have a way to verify identities and transactions. We have to have a way to control which systems we participate in.
That's why about a year ago, I set the wheels in motion for Phunware to launch PhunCoin, a cryptonetworking token of its own. We recently announced it publicly, so I'm not giving away any top-secret details here…but the idea is to make data a currency and ensure users can opt into and be compensated for its use. Their digital identity is stored, encrypted and biometrically protected on their device via a Phunware self-sovereign identity, not in the cloud where "accidents" and hacks like Experian can happen, and they can choose on their own what level of information that they want to make available to the companies that would profit from it in return for payment and economic benefits to themselves. It's an elegant solution to the problem that plagues our technology ecosystem and an ingenious way to empower and reward users to regain control of their own information and profit from it, just like you do.
When it comes to our philosophical approach to data as a society, we can't turn back or pretend we don't know what we know. Pandora's box has been opened; we have caught a glimpse of what's possible. We can, however, use our power to protect and empower users rather than exploit them. We can't change how data has been used in the past, but it's our responsibility to do things differently going forward. Fortunately for us, doing what's best for the user turns out to be what's best for the business in the long run—remember what happened with Facebook's HTML5 app?
I hope you will consider these words—and more importantly, consider your users—as you weather this firestorm and plan for the future. And I am ready to meet, as soon as you are.
Respectfully,
Alan S. Knitowski
CEO and Co-Founder
Phunware, Inc.
To stay up-to-date with Phunware news and announcements, subscribe to our monthly newsletter. SUBSCRIBE TO THE NEWSLETTER