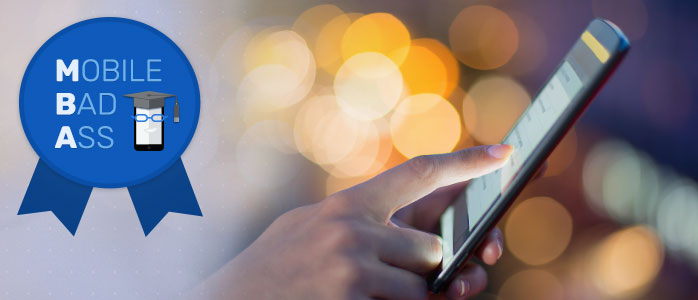 Week 6: Mobile App Stickiness and User Engagement
Lesson Summary
Phase 4 in the mobile app lifecycle, Engage and Monetize, is where you have the greatest opportunity to maximize ROI from your mobile strategies. This week's course focuses on user engagement. We'll address monetization next week.
User engagement can be understood as a dual initiative. First, there's the ongoing effort to ensure mobile app "stickiness"—i.e., its habit-forming potential—by keeping content fresh and utilizing rewards programs and other best practices to reinforce users' preferences and behaviors. Second, there's actually engaging with users. The most sophisticated marketers leverage mobile marketing automation tools to precisely target their user engagement and tune their messages to help drive marketing and business goals.
Learning Objectives
MBA candidates will gain a solid understanding of the concepts of engagement and mobile app stickiness, as well as the basic tactics involved in mobile marketing automation.
Key Points / Discussion
Though we're separating the two to provide a thorough overview of each, Engagement and Monetization are interwoven initiatives. Both focus on sustaining an audience for your app, then deriving value from that audience. Ideally, your mobile engagement efforts support your mobile monetization efforts and vice versa.
This week's lesson is about keeping users engaged with your app and connecting with them via direct communications.
Best Practice: Ensure Mobile App Stickiness
User retention is often viewed as something you can build into the app—the idea is often referred to as "stickiness," meaning a quality of being irresistible or at least consistently useful and attractive to users. While there are best practices for creating user-friendly or habit-forming apps, stickiness must be proactively maintained over time. The most basic approach to user retention involves keeping the app relevant with fresh content, design and features as appropriate.
Next-level tactics for user retention (or "stickiness") include:
Rewards programs. Mobile game developers have pioneered the use of rewards to keep users coming back for more, and of course retailers have been using customer loyalty programs to do the same thing in their stores. The same principles apply to any kind of app: Rewards can give users compelling incentives for habitual behaviors, which in turn can be leveraged to help you achieve your business goals. This is where user data and analytics can be particularly valuable. For example, if 80% of users who visit your app three days in a row ultimately end up paying for premium content, you might offer a reward that can be unlocked on the third sequential day of app usage.
Retargeting. With retargeting, marketers leverage third-party data to show display advertising to users based on websites they have visited, apps they use, searches they have performed, their inferred interests, etc. Mobile retargeting requires a sophisticated advertising or monetization partner with access to user data across a wide spectrum of other apps and the expertise to leverage that data to reach the desired audience.
Best Practice: Mobile Marketing Automation
Push notifications and in-app messaging are most brands' primary means of communicating directly with individual users. Push, in particular, is a great way to reach out to users when they are not in your app. It can extend your mobile presence into their real-world context and daily lives (and vice versa—the location and contextual data available through your app can and should inform future in-app experiences you launch).
Mobile marketing automation tools empower marketers to tailor push notifications for different users and specific goals. Those goals could be app-specific (driving repeat app usage, making an in-app purchase) or broader—such as incentivizing an in-store sale with a mobile promotional offer or letting residents know they have a giant stack of boxes waiting in the property mail center.
Mobile marketing automation is also known as "location-based marketing," because it enables marketers to harness the location technologies built into every smartphone to send the right message to the right consumer in the right context. Although the experience for the end user is the same, there are two main types of mobile marketing automation campaigns:
Geo-fencing involves drawing a GPS-based virtual boundary (or "geo-fence") around a large area of interest, such as your store or office location, a competitor location, a stadium, a whole ZIP code, etc.). Actions can be triggered off of users crossing that virtual boundary, such as sending a promotional push notification or registering a data point.
Proximity- or beacon-based campaigns operate similarly, but processes are triggered by users coming within range of a beacon (a small piece of hardware that emits Bluetooth signals) instead of by users crossing a virtual boundary. For example, you might trigger a push notification offering a last-minute deal on certain store items when a user walks past a beacon placed in the relevant department.
As with other marketing automation efforts, it's a good idea to leverage all the user data can you obtain to segment and target effectively—and then test and optimize continually. In most cases, brands work with an expert mobile marketing automation partner who can connect them with rich contextual user data as well as campaign development tools.