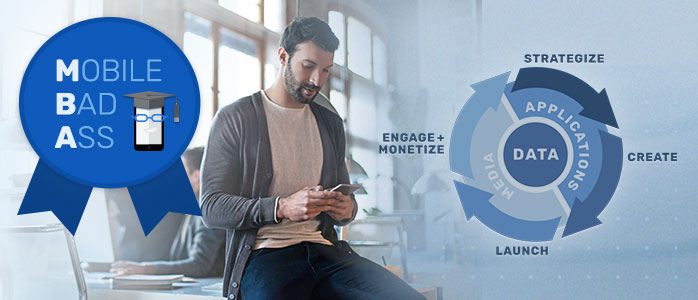 Week 2: Intro to the Mobile App Lifecycle
Lesson Summary
While mobile has reached maturity in the consumer's world, brands are still taking baby steps towards becoming mobile-first. Marketers must grow up fast and put mobile front and center in their strategies by adopting a holistic lifecycle approach. Marketers must also recognize the unique characteristics of the mobile app lifecycle which will have a growing impact on their business.
Learning Objectives
After completing this lesson, MBA candidates will have a strong grasp of the mobile app lifecycle concept, what makes it unique and why it's important. (In the following weeks, lessons 3-7 will take a closer look at each phase of the lifecycle.)
Key Points / Discussion
The Kleiner Perkins 2017 Internet Trends report presented by tech expert / legend Mary Meeker synthesized data from disparate sources to expose some very interesting underlying trends. The report shows that mobile represents 28% of media consumption time, yet only 21% of advertising spending in the U.S. This amounts to a roughly $16 billion opportunity gap.
Brands are missing the chance to connect with consumers where they spend a great deal of their time—and publishers and app developers are missing out on a huge chunk of ad revenue. To close the opportunity gap, mobile strategies (and budgets) need to mature quickly.
Strategic shift: Mobile is now front and center.
In the early days of mobile applications, it was possible to treat mobile as an isolated tactic and channel. Before mobile use was ubiquitous and any brands understood how to make mobile data actionable, you could get away with treating mobile as another marketing avenue like PPC or direct mail.
These days, mobile apps can no longer be an afterthought or a bolt-on to other platforms and strategies. Any mobile initiatives must be developed for mobile as a unique platform with unique capabilities. What's more, your brand strategy should be fully integrated around your mobile app. With your app as the digital hub of your brand, you can seamlessly incorporate all of the systems you use to engage, manage and monetize your customers.
Strategic shift: Mobile success now requires a lifecycle approach.
As you start putting mobile first and at the center of your marketing organization, you must also mature your approach to each initiative. Rather than being another project with a start and end date, every mobile initiative has a four-stage lifecycle that continually repeats. By understanding and planning to address each phase of this lifecycle, you'll be in a stronger position to ensure maximum impact and return on investment (ROI).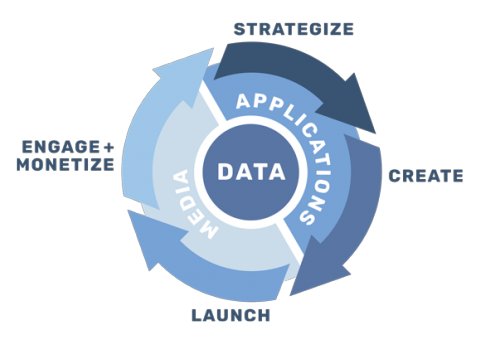 The four phases of the mobile app lifecycle are:
Strategize: In Phase 1, you define the amazing mobile experience you want to deliver to users and what it will take to get there.
Create: In Phase 2, you bring your app to life.
Launch: In Phase 3, you deliver your app to the marketplace and start building an audience.
Engage and Monetize: In Phase 4, you work to keep users actively engaged with your app and generate revenue from your mobile efforts.
Importantly, this lifecycle does not end. As you move through each phase, you collect data on your audience and your efforts. You can use this data to refine your strategies, inform the next things you'll create (new features, another app, design tweaks, etc.), shape your launch approach and fine-tune your efforts to engage and monetize. The process is always iterate, gather data, optimize, repeat.
Essential idea: Mobile is a both physical and digital, customer experience and business solution.
The hybrid nature of the mobile app lifecycle makes it unique. A smartphone is a digital device, but it moves through the physical world and includes highly specific geographic location technologies that apps can leverage. At the same time, an app can serve both users and the business. While your app is providing entertainment, wayfinding, shopping, etc. to users, it can also deliver business value such as third-party monetization, process optimization, user data collection and even real-world outcomes like increased store foot traffic or doctor appointment compliance.
Essential idea: Mobile data is an unprecedented resource for marketers and business.
It's no secret that mobile use is immersed in the very personal context of the user's daily life. People carry their phones wherever they go and interact with apps throughout the day. Each of these interactions results in a data point—complete with location—brands can use to improve and tailor the mobile experience.
What's significant is how this daily digital trail can be leveraged far beyond the mobile channel. In addition to shaping the mobile experience, the insights to be gained via the daily digital trail can (and should) shape your overall marketing strategy, media investments, operations planning and even real estate decisions.