Remember the very early versions of mobile phones? They were BEHEMOTHS. They definitely did not fit in your purse or your pockets. They had limited functionality. And not everybody was comfortable using them.
But we learned a lot from those early days, and the succeeding generations of mobile phones have evolved into ubiquitous devices that are useful in countless ways.
Many first-generation hospital kiosks are kind of like those old mobile phones—a little clunky, hard to situate in a crowded hospital, expensive, and rather limited in functionality. Each kiosk was likely running its own software that had to be updated manually (a pain). Consequently, maps and wayfinding information were often out of date. Multiple kiosks in a facility couldn't talk to or work with each other. And sadly, these hardworking kiosks were all too often ignored by patients and visitors who didn't know what to do with them.
But the potential for our friend the hospital kiosk is enormous!
Let's take a look at Kiosk: The Next Generation.
When a hospital customer works with Phunware to develop a branded mobile app, we can extend that same app for use in a kiosk format. This approach offers a number of next-generation advantages—especially because of Phunware's powerful, cloud-based software and flexible form factor (tablets or wall-mounted touchscreens).
Lower Cost
A traditional kiosk runs around $5,000. For a hospital with ten kiosks, that's an investment of $50,000. As an extension of a mobile app deployment, Phunware's cloud-based kiosk solution can be deployed for as little as $200 each. A ten-tablet solution represents a potential savings of $48,000 initially, and minimal operating costs.
Space-Efficient and Location-Flexible
A Phunware kiosk solution can be deployed on a wall-mounted touchscreen or on a mobile tablet at a fixed location (welcome desk, nurses' station, etc.). You can even equip volunteers with a roving tablet, so they can serve as personal guides for hospital visitors. And of course, with your branded mobile app, patients and visitors can literally carry your facility information and wayfinding assistance in their pockets—inside the hospital and out.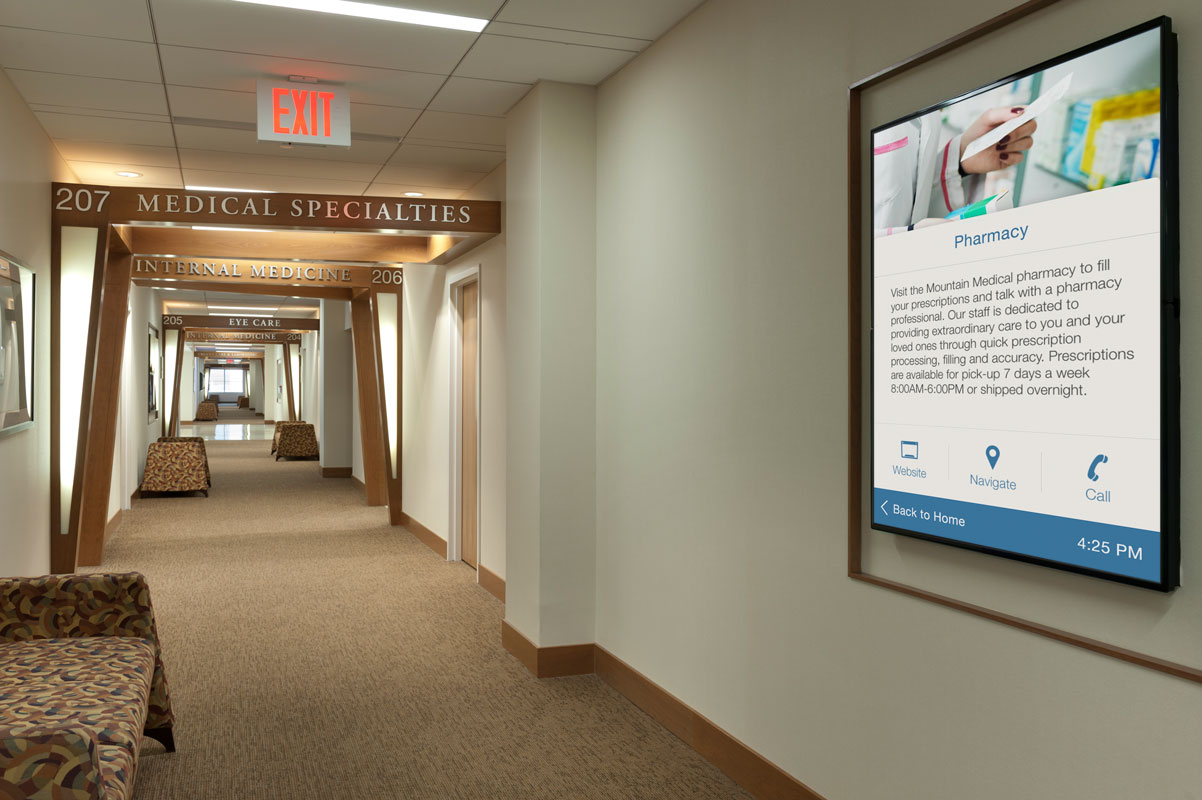 Familiar Technology and User Experience
As of 2015, almost two-thirds of Americans own smartphones. The user experience with Phunware's app and kiosk solutions would be very familiar for most patients and visitors. In addition, large-format touchscreens are also gaining traction across the country, as evidenced by the recent rollout of a pilot program using touchscreens for wayfinding and information in the New York subway system. Currently, 140 touchscreens are in place at 28 subway stations, with an average daily ridership of 1.4 million people.
We on the Phunware healthcare team are excited about mobile's potential to help hospitals, providers, patients and visitors. These next-generation hospital kiosks are simply the next step on a very bright journey. Learn more in our eBook: "The Way You Want: How Multi-Format Digital Wayfinding Empowers Patients and Visitors"